Buy the eBook
Door Trix - To get them fixed!
Click to Look Inside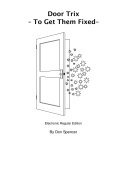 This information-filled ebook is available to you as a PDF file, meant to be read by Adobe Reader® version 5 and above. Using Reader, you can print out parts of the text, whenever you need it for reference. Otherwise, the text is best accessed with the Reader program. This is because the entire Table of Contents, the Index and all the cross references are hyper-linked. A single click on any one of them will bring you to the point of reference. Then a click on "Previous View" button will bring you right back to where you started.
HELP TIP BEFORE YOU BUY:
After purchase, you may need to click the button "Click here to download Door Trix!" at the bottom-left corner of the paypal page that has the receipt id. If you have trouble getting the book, you may forward your receipt to info@doortrix.com. We'll be more than happy to email you your copy.